There is no more difficult sequence of matches in world football. Tottenham, Bayern Munich, Manchester City, Manchester United. All in the space of three weeks that define the season.
That's the task ahead of Arsenal Women. The group of games that will determine the terms of the campaign.
Will it be one of those celebrated with the League Cup trophy in the cabinet, and run in honor in two more competitions? Or one of those almost-but-not-quite years – the kind you only remember briefly.
The kind that includes fleeting moments of joy and pleasure but ultimately disappointment, like a 110m runner who clears the first eight hurdles but crashes into the final two.
Saturday, March 25, 2:00 p.m

Kick off 3:00 pm

The Gunners' season is ready. Many ways he went down, but certainly not out. They must chase down a one-goal deficit in the second leg of next week's Champions League meeting with Bayern, while also keeping their domestic ambitions alive by staying with the elite of the Women's Super League. It's not easy.
Jonas Eidevall's squad has been depleted this season, due to season-ending injuries to Beth Mead and Viv Miedema around Christmas. The fate of the rot has the potential to destroy the entire operation quickly, but nothing can be a chance in football. "We miss them; they are a big loss," said striker Stina Blackstenius Sky Sports in an exclusive conversation at Arsenal's rain-soaked training base, having just come from a particularly humid outdoor session.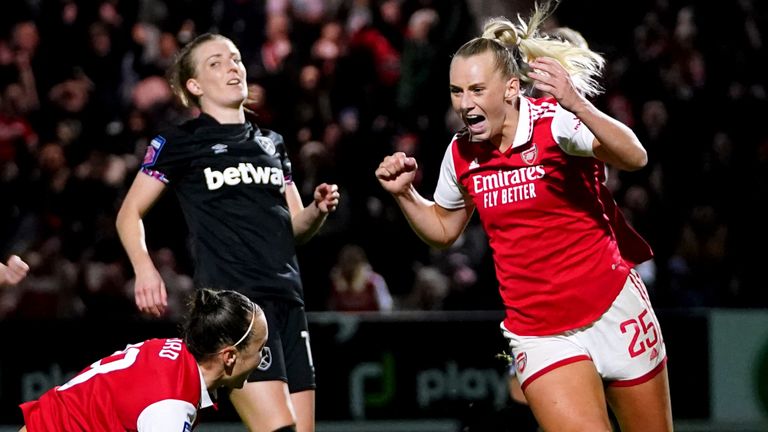 "It's like in Sweden," he said as he sat down, as if to make common ground. The striker is already aware of the dry weather, which all Englishmen are used to. "We've been soaked this morning," he added, smiling, before stepping back casually as if to signal his readiness to deal with any questions – weather-related or otherwise.
The conversation begins with Tuesday's trip to Munich. In some ways, it represents Arsenal's season – packed to the rafters with industry and effort, if not the final product. "It's frustrating that we didn't get the results we wanted," Blackstenius said, "but we also have to remember that we have everything to do," he added quickly in the next breath.
Take a look back at Stina Blackstenius' best goal for Arsenal in the WSL ahead of Sunday's clash with Aston Villa, live on Sky Sports.

"We know we can change the result. We had a good second half in Germany and I think there are a lot of good things we can take into next week's game. We had some chances and need to be more clinical. We felt like we deserved the goal. But in this game is a rare opportunity and we have to finish it. We have a strong mentality, and we know we can score goals."
Blackstenius himself took the pressure off him. The expectation of scoring goals comes with the territory, he admits, but away from the pressure that surrounds him, he tries to take his "responsibility" – as he calls it – well.
Mollie and Rosie Kmita from The Dub preview this weekend's North London derby in the Women's Super League.

"As a striker, you always want to score goals. From outside, everyone is looking for you to score. It's easy to get into a mindset where you feel the pressure, but I'm focused on my game. I know I can bring more to it than just goals , but I also know that it's my job. As a striker, I want to be part of the whole game – I want to help my teammates defend, I want to create chances. You always have pressure, It's just how you handle it. In the end, if we win the game, I really enjoyed it."
Winning is exactly what needs to happen from here – and nothing less. Arsenal are not the frontrunners. He must come from behind if he has designs on more than one championship medal this season. They have a five-point deficit to finish the league, which, this season, may not be able to overcome. But that's not how Blackstenius sees it – that's not how Arsenal work.
"It's very much about trust," he continued. "There are still a lot of games to play and everything is possible. Until now, we have to do our job and collect as many points as possible. I don't want to say that we are out of the race because we remember that anything can happen. We can't stop believing. It's necessary and it is important that we still have confidence.
Arsenal head coach Jonas Eidevall says he expects a tough game against Tottenham when the two sides face each other in the North London derby on Saturday.

"It's a tough schedule but this is the game we're playing. We really need to be at our best and that's fun. We're very excited about the game. [League Cup] title – I'm happy to win the first trophy for Arsenal. But it makes us strive to win more. We grew in confidence as a team. It makes us strong to know what we can do and also makes us believe that we can achieve a lot when we are at our best, that's what we need. You saw against Chelsea how we can be at our best.
The Gunners are dangerous, and their fortunes can change. Blackstenius showed plenty when he ran at Mille Bright's feet and outran Ann-Katrin Berger's grasp to level in the Conti Cup final against the Blues a few weeks ago – Arsenal dominated from then on. Blackstenius set the tone, bringing the type of rampant performance fans had become accustomed to when Mead and Miedema were available. The result, more than worthy, has an uplifting effect.
"I think I need it," said Blackstenius. "We showed ourselves. It's hard to stay at that level, but we know we can do it. We don't have to stop. We have to try to be consistent in that way. show what we can do. Lift the trophy and celebrate together- together means, after a strong performance."
This weekend the conditions are no different, but the stakes may be higher. "It's a huge game," said Blackstenius, whose second conversation turned to the prospect of Saturday's north London derby, straight away. Sky Sports. The atmosphere, relaxed before, turned a bit serious.
"This is great. We had a great experience at the Emirates the last time we played Tottenham, with all the fans – a record crowd. I know how much it means to the fans, so we're looking forward to it. We're excited. The three points we need.
Hosts Dub Mollie and Rosie Kmita make predictions for all the Women's Super League matches this weekend.

"It means a lot to play in this game. It creates this extra spark. You can feel it in the atmosphere. Derbies are special, no matter where you are, but since I came here I have seen it from a different perspective. It is bigger than I thought, in a good way. It's amazing because it brings the fans together and we want to play for them, and with them. We play this game as one club."
This will be the seventh north London derby contested in WSL history, with Spurs yet to win a game. Indeed, while the overall picture, in league terms, perhaps favors the rival club, this fixture is controlled and organized by the red half of north London.
"We had a good experience against Spurs," summed up Blackstenius. "You could tell how much it meant to beat him. It was just different, in a very special way."
Watch Tottenham vs Arsenal live Sky Sports Soccer Friday from 2.30pm; kick-off at 3pm