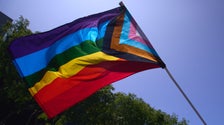 The Minnesota Senate passed a bill on Friday that would ban conversion therapy for LGBTQ+ youth and certain adults.
The law, SF23, targets the discredited practice of changing a person's sexual orientation, gender identity or gender expression. If passed into law, mental health practitioners and professionals would be prohibited from engaging in conversion therapy with anyone under the age of 18 or "vulnerable adults," a label that could include those receiving treatment for physical, mental or emotional conditions.
The Senate voted 36-27 to advance SF23, with two Republicans joining the chamber's slim Democratic majority. The passage follows years of failed attempts to get the bill through the legislature. The proposal has previously been passed in the country's House of Representatives on several occasions.
SF23 is now awaiting the signature of Governor Tim Walz (D), which would put Minnesota alongside 20 other states, as well as the District of Columbia, that have already passed the law. prohibit conversion therapy for LGBTQ+ minors.
Conversion therapy dgoing back to the early 20th century, it emerged as an attempt to "cure" homosexuality. LGBTQ+ counselors, along with medical and mental health organizations in the US, have punish the behavior, which he describes as inhumane, ineffective and dangerous – especially in terms of mental health.
With 469 bills nationwide now targeting drag shows, gender-affirming treatment and other LGBTQ-related issues, several advocacy organizations have spoken in support of SF23 and other laws aimed at providing protection for LGBTQ+ people in Minnesota.
"After the record level of anti-LGBTQ bills across the country, this raises many hopes for a historic landmark in this legislation," wrote Troy Stevenson, director of state advocacy campaigns for The Trevor Project, in a statement on SF23.
"This bipartisan bill … sends a strong message of affirmation and support to every young LGBTQ Minnesotan growing up in the North Star State."
The Minnesota House and Senate have as well pass the Trans Refuge Act. Waltz already declare he plans to sign the bill, which would make Minnesota the third sanctuary state in the nation for people seeking gender-based treatment.