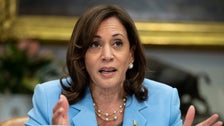 Vice President Kamala Harris called out members of Congress for not acting "separately" on gun violence after more than 160 mass shootings this year, including one that killed four and injured 28 at an Alabama birthday party last week. (See his comments below.)
Harris, who has called for "reasonable gun safety legislation" before, asked on "The Jennifer Hudson Show" Thursday why lawmakers haven't been "courageous" to do something.
"I just think that people in the United States Congress don't have the courage to stand up to the gun lobby, stand up to the NRA and say, 'Look, I support the Second Amendment but we need reasonable gun safety laws,'" Harris said. .
Harris, elsewhere in the interview, slammed the presentation of a "false choice" between the Second Amendment and gun safety laws.
"The point is to say that it's enough that we're going to do a background check because it's enough that you want to know if someone is found by the court to be a danger to themselves or others before they can buy a gun," she said.
"It's only natural. It's just enough. It's fair to say that weapons of war are off the streets of America and that means assault weapons.
Hudson's mother Darnell Donerson and brother Jason Hudson were found shot to death in Donerson's home in 2008. Singer Julian King's 7-year-old nephew was found dead days later from his injuries. William Balfour, her sister's estranged husband, was convicted of three counts of murder in 2012 and jailed.
Gun violence has killed 12,800 people this year, and there have been 166 mass shootings – more than one per day – according to the Gun Violence Archive.